Family of Joseph Charles Hornbrook
You have entered the online genealogy of Joseph Charles Hornbrook. This information is being made available to assist other family members and genealogists. If anyone has corrections or further information, I would greatly appreciate your help. Please send an e-mail to the address provided.

Dominant Surnames: Hornbrook , Vogt, Strawser, Harper ,Hendrickson, Whitesides.

Localities: Garrett County, MD Allegany, MD Cumberland, MD Pendleton County, WV Preston County, WV Berks County, PA Hazelwood, PA Adams, PA Gastonia, NC Ft. Lauderdale, FL Plantation, FL Alsace , Mulheim, rosheim, Tours France.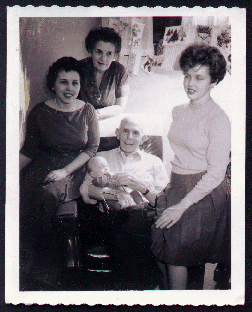 Five Generations: L to R: Virginia Eloise Whitesides, Mona Lula Hendrickson, Linda Kay Hornbrook, Carson Harper (seated), Joseph Charles Hornbrook (infant). Photo taken Christmas 1961 Published in the Cumberland Times.
---
Table of Contents
Family Group Record for Joseph Charles Hornbrook
Surname List
Index of Names

---
Contact Information
Send E-mail to agdome@yahoo.com
Send mail to:
Joseph Charles Hornbrook
5314 Grand Lake Crescent
Virginia Beach, VA 23462-1833

All Intellectual Property and/or multimedia resources on these pages copyright of cited sources or Joseph Charles Hornbrook. No reproduction, by electronic or other means allowed for inclusion in any other work unless expressly permitted in writing by the rightful owner